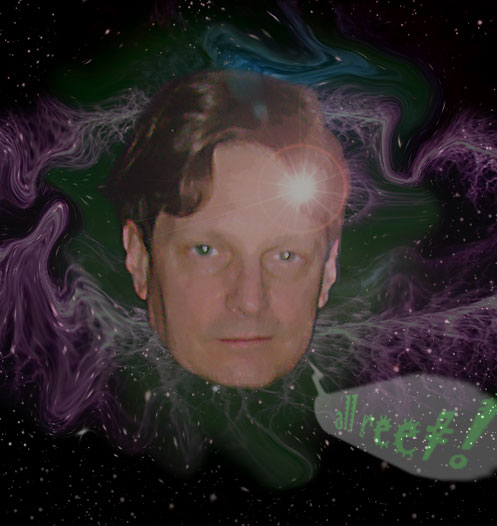 "My name is Hugh Jarvis Hitchcock and I am a composer producer specializing in dance oriented techno funk. I am the architect of complex and colorful musical constructs which make your feet tap with my motown beats. I have the funk deep in my rhythms and motown deep in my soul. Let this music transport you to the land of Funk and Rainbows."

Hugh Jarvis Hitchcock grew up in the shadow of Motown and music school. The product of the marriage of a musicologist (music historian) and a piano virtuoso, Hugh started playing the piano at age 2 and the guitar at age 6. He performed locally from a very young age, including the lead role in a classical opera for an audience of 5000 people at age 13. Hugh was the youngest person to enter the University of Toronto's electronic music program at age 14, where he learned to program synthesizers and operate a recording studio. Hugh went on to be a composition major at the University of Michigan school of music, but soon realised that the life of a performing "real-world" jazz or rock musician was more for him than an academic scene.
So in his teen years, Hugh worked in creative groups in Ann Arbor Michigan including the Martian Entropy Band and Tantra, but eventually found his way into the local RnB scene. Hugh's Detroit funk band Tymepiece often worked with RnB vocalist Jimmy Delphs for his showcase gigs. Local producers took notice of Hugh's powerhouse composition "Captain Jarvis", and used the song for jazz violinist Noel Pointer's breakout album Feel It. Not only was this the first urban jazz tune to incorporate a 5-string electric violin, it was also the most requested song on Detroit's WJZZ radio for the year and continues to be a cult favorite. Hugh moved to Detroit, where he worked as a bass player with Norma Jean Bell and the All-Stars, understudy for virtuoso bassist Lamont Johnson, Belita Woods of Brainstorm, Anita Baker, and Marcus Belgrave, among others.
Eventually Hugh moved to Miami, Florida to get out of the snow and slush of the midwest. In South Florida, Hugh made many musical connections. Among them was a commission to produce what turned out to be the comeback album for international rock artist Mike Hanopol, featuring Mike's Asian hit Buhay Amerika. While he continued to compose new works privately, Hugh provided music publicly as well, his group "Hitchcock Presents" secured long-term house gigs at prestigious venues such as the historic Biltmore Hotel and Greenstreet's jazz venue in Coral Gables, Florida.
Hugh continued to write and produce original music and learned to sequence with a computer, even being hired to provide MIDI (computer-music) programming for various national production companies. He learned the ins and outs of computers and eventually received titles and certifications as software engineer and system administrator, creating computer programs, networks and custom software on contract for various clients. He worked as a web entrepreneur during the heyday of the rush to the internet, managing databases and working as the architect of information technology infrastructures for start-ups. When digital recording came into the main, Hugh was ready — he already knew the ins and outs of computers intimately, and with his recording studio experience, it was only a stone's throw to connect his musical aspirations with his computer expertise, and voila.
Alternately working as a performer internationally and around his home city of Miami, Florida, Hugh ultimately finished the first CD he hadn't produced for someone else — this time under his own name as artist. The jokingly-titled "FUNKMEISTER" album was released on August 8 of this year (2009) and is available from CD Baby at http://www.cdbaby.com/hughjarvishitchcock. This lush sounding CD combines Motown, Funk, and Worldbeat, and features talented Dutch vocalist Elisa Sintjago and former K.C. and the Sunshine Band alumnae Dennis Sierra on guitars, along with Miami jazz veteran Jesse Jones Jr. on saxophones.
Hugh continues to perform, now primarily with the Ike and Val Woods RnB Revue. Catch them around Miami or touring internationally.