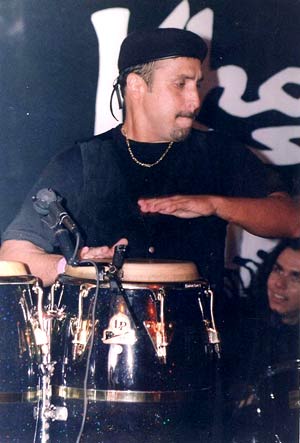 Joe Collado played latin percussion on my tune "Make No Mistake" and is also featured on the video/dvd of same. I've played in bands with Joe since 1987 when we first met at Monty Trainer's where the band I was in with Larry Hirt and Rob Conde had the house gig. Joe was performing with Junie Strongheart in the same venue. Joe was always impressed with my knowledge of Latin Jazz (please check out the Picante article to see that my Latin Jazz roots run deep.) I'll always be grateful to Joe for continuing to encourage me to keep my music alive, even when I'd turned my back on music (oh no you say! yes it happened for a hot minute.)
I would like to add that Joe spent quite a bit of time touring South and Central America with his cousin Angel Canales, who is a very well-known Puerto Rican Salsero. Very popular in Latin America. I had the good fortune of doing a few gigs with Angel myself through Joe.
Joe was named Best Percussionist of the Year for 2009 by the Miami New Times "Best Of" promotion. Here is what they printed about Joe:
"Back in the '70s, when Joe Collado was a boy living in New York City, he was lucky enough to witness many of the greatest percussionists in the history of Latin music. It was during that time when Collado — taken in by the rhythms of Fania legends such as Ray Barretto and Mongo Santamaria — decided to become a real life conguero. So he began practicing and soon developed an exceptional style that mixes salsa with other popular styles such as reggae, Latin jazz, and even some good ol' rock 'n' roll. The past decade has seen Collado honing his skills around town with his superb group, the Latin Groove Project. He also moonlights with the exquisite Galo Rivera Band and a Santana tribute group. A truly creative percussionist, Collado has even played with some international salsa superstars, including the legendary Angel Canales. Never one to forget his salsa roots, and clearly passionate about his craft, Collado and his captivating congas will definitely lift you into a paradise of exotic rhythms." (http://www.miaminewtimes.com/bestof/2009/award/best-percussionist-1648522/)
I had hoped to have Joe on more than just the one tune on my CD, but logistics didn't permit that this time. You will be hearing a lot more of Joe on my upcoming projects, however. Here, for your edification, is Joe's overly modest bio from his MySpace page:
"Born and raised in Brooklyn, New York and of Puerto Rican descent, Joe has been playing percussion since his preteen years. Known mostly for his tasteful and rhythmic playing, Joe credits his percussion schooling from the countless rhumba jams in the streets of New York City and witnessing all the great bands during the Fania All-Stars era.
Relocating to Miami, FL after graduating from John Jay HS in Brooklyn, Joe played Intercollegiate basketball at Miami Dade CC then returning to play for Queens College, NYC. He majored in music his first two years in Miami Dade CC and polished his percussive skills under master teachers such as Johnny (JC) Conga and Hector (Pocho) Nesciosup. Creating his own playing style he eventually took his skills to another level after graduating with a BA in Health/PE with a minor in music.
Joe has shared the stage with the greatest of percussion such as Santana's Jose "Chepito" Areas and Master percussionst Giovanni Hidalgo just to name a few. His band repertoire includes Salsa stars such as Eddie Palmieri's Herman Olivera, Henry Fiol and the famed underground Angel Canales Orchestra as well as other stars. Presently Joe is playing steady with local South Florida bands such as Galo Rivera/Santana Tribute band and his own group, The Latin Groove Project and others as well. Joe also has been awarded best percussionist in Miami 2009, by the Miami New Times.
Joe serves as a full time Dade County Public School teacher which musically curtails his availability and committment to perform with many top traveling artists, but still always finding time to play on demand. You can spot Joe playing with various known Salsa, Reggae, Carribean, Latin-jazz, Latin rock and cover groups all over South Florida."
– reprinted by permission from http://myspace.com/joecolladofriends