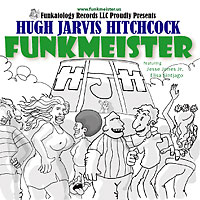 Hi Folks, here's the latest news… my record FUNKMEISTER has been featured two saturdays in a row on BBC Radio… songs from the album are receiving national airplay in UK, France, Italy, Germany, Austria, Russia, Sweden, Spain and Denmark, as well as Australia, and New Zealand and Canada. We've joined forces with a new promoter and distributor, so hopefully we'll see a whole new level of broadcast for FUNKMEISTER as the days and weeks go on.
FUNKMEISTER has been re-released as of August 15th, a completely re-mixed and re-mastered album and copies are available through CD Baby at http://www.cdbaby.com/hughjarvishitchcock. Why not pick up a copy or two!
Also we now have some copies of our beautiful, limited edition posters available, click here to check out the deal on those. We have both FUNKMEISTER posters and Father of Scat Hop posters available. These posters are really, really nice, very large, and prined on high quality heavy duty gloss backed poster paper, these are the real thing folks, I have spared no expense in getting these manufactured. I have framed copies in my home, and believe me they look quite classy, I have some photos of the framed copies in the promo section so just click on the link to get yours now.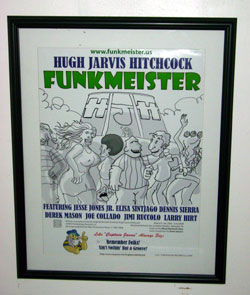 We were hoping to put together a touring group for the Scat Hop stuff, but Jesse's been so busy with the whole Blues and Jazz scene that it looks like that's just not going to come together. We wish Jesse all the luck in the world with his career as a Jazz Legend.
Meanwhile, it looks like Father of Scat Hop is really turning out to be more my bag — that is, the music part of it — Jesse always said that, anyway. Even the DJs at Stanford University's radio station KZSU (who gave us a good review by the way) seem to feel that the focus is more on the music (mainly my contribution to this record) and not so much on the scat. Ain't that somethin'.
Big thanks goin' out to DJs MC Dizzy Jackson, Abra, and Eme O over at KZSU for givin' us a spin. Father of Scat Hop is also being played on Green Arrow Radio, KAOS DJMK Radio, WMBH Radio, Live365 Internet Radio, WXYC 89.3 FM, KALX 90.7 FM Berkeley, as well as some other stations around the US. Go Jesse!