this one comes from Graham Barclay of Soundwave FM in New Zealand:
Hi Hugh, Many Sincere Thanks for the CD" Funkmeister " that you sent us recently. BRILLIANT – EXCELLENT We have enjoyed it immensly, and have added tracks from it to our playlists. Your presentation of music, inside the style and personality reflected in the tracks is very refreshing. Keep it up. Many thanks again, and please stay in touch. Kind regards Graham J Barclay
thanks so much Graham, I aim to please and I'm glad I've hit the mark! I'll definitely stay in touch and I'll send you a copy of my next album "Father of Scat Hop" which will be releasing in March!
the next comment is from George Young from Country Club Radio in Australia:
Hi Hugh, We love the groove on this disc. Could be the most funky thing ever to come out of Memphis. It's all good. Cheers George Young
Hey George, thanks so much for your positive feedback. Actually, I'm in Miami (!) although we did get the CD mastered out of a famous studio in Memphis. Will stay in touch fer sher!
This one comes from the Netherlands, which happens to be the home country of the singer on my CD, Elisa Sintjago:
Hi Hugh, Loved your album. So did my listeners. Hope to hear more from your. Happy Holidays, Paul van Kuik The Country Express Radio 0162 – Dongen The Netherlands
Pierre Gerard from Planete Indie in France had this to say:
I have received the cd. I liked it a lot and have spinned it recently. You can check the playlists online at : www.pierregerard.be/planete
RadioIndy.com writes this somewhat boring review. Female vocals, keyboards, and a drum machine, what else do you want? HEY — you forgot the awesome Jesse Jones Jr. on saxophones, that's what!!!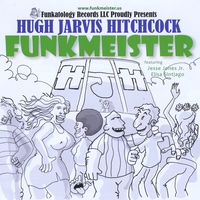 Hugh Jarvis Hitchcock and his debut CD, "Funkmeister" is an album that spans fluently across many genres. At some moments it's urban and jazzy, other times it's 80's music with some world beat flare. Female vocals, keyboards, and a drum machine make for some smooth, catchy, and fun songs. The album is best represented by the track, "Out of Control," as it has a fast paced world drum beat, jazzy saxophone, and a funky bass line that really moves. The stand out single is "All I Know" as this song offers a slower moving beat with soft and sweet vocals. "Funkmeister" will surprise you at every turn, from its ever-changing genre, to samples of George W. Bush speeches and is definitely a great album to hear if you're looking for a variety of music with vibrant rhythms.
-Matt M. and the RadioIndy.com Reviewer Team
Check out Hugh Jarvis Hitchcock's music on RadioIndy.com with link to purchase and links to popular sites