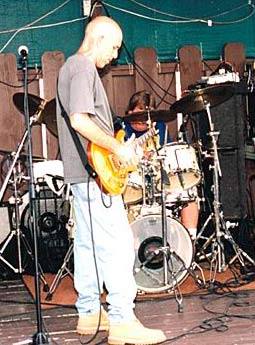 Dennis Sierra is one of the guitarists I employed on my CD FUNKMEISTER. He provided solid support parts for Ur Makin Me Hi, Be My Fantasy, If I Gave My Heart to You, and I Want to Love You. I thought readers should have a chance to know of Dennis's illustrious history in the business. I met Dennis way back in the late 1980s, when he would sub in for our guitar player at Monty Trainer's (we had the house gig with Larry Hirt and Rob Conde). Around 2002 I was eating a pizza and watching rerun of Miami Vice on Nikelodeon and I just about fell out of my seat when I saw Dennis fronting a band at a house party, singing "Some Guys Have All the Luck" by Rod Stewart, in this episode of Miami Vice. Needless to say I called him up the next day and said excellent. Anyway, I herewith present his bio, written i Dennis Sierra's own words.
"I was born in Havana Cuba on Dec. 04, 1952. We moved to miami in the late 50's. Our house in Cuba was a musical conservatory, housing 5 pianos and a fully equiped ballet salon.
Early musical influences included George and Ira Gershwin, Cole Porter and the likes, since my mother was a classical pianist and a teacher, I was always exposed to those types of composers as well as Elvis in the rock categories and of course, in the 60's, the Beatles. Music was always in the forefront and escalated from that point especially after learning how to play the guitar from my father in early 1964 who taught me and also played himself as a non-professional, taking me thru the 60's into the British invasion and the psychedelic Woodstock era which produced a number of great influences for me, in addition to my parents of course. 
In the 1970's, I played with a top rated local band called the World of Matter which lasted about 4 years and in 1975 joined and began touring with George McCrae (Rock Your Baby) of disco fame along with the NewBorn Band and later recorded the "Diamond Touch" (1976) in a Soho New York studio called the "Basement", produced by the late Gregg Diamond of "More ,More, More" (The Andrea True Connection) fame. later that same year, we performed at the Disco Convention at the Americana Hotel in New York City. The following year (1977) saw another album release called "George McCrae", recorded in Miami, Florida at the famous TK Records which produced great disco era artists such as KC and the Sunshine Band, Betty Wright, Timmy Thomas and Bobby Caldwell  (What you won't do for love),and many others, and once again returned a second time to the disco convention in New York, this time with The Commodores, featuring Lionel Richie.
The early 1980's came and again saw another radical change in a different kind of music in punk rock that also spawned a new wave of british bands bringing about new sounds with mostly keyboards and synthesizers. During that period I played in a couple of local bands including "Nasty Kids" and "Superfunk", had several other recording ventures including @ StudioKNet with good friend and owner Carl Catalano who along with his much appreciated support also co-wrote much of the material. Then in 1984, joined "KC and the Sunshine Band" thru 1992. Toured with " Kool and the Gang " in a US tour that included playing Radio City Music Hall and the Worlds Fair in New Orleans. Traveling was abundant in the US and over seas.
TV shows included the hit series " Miami Vice" (1985), " The Arsenio Hall Show " (1991),  variety shows in Sydney, Australia (1985) and Santiago, Chile (1991), all with KC and the Sunshine Band.. also a variety TV show in Italy in 1976 with George McCrae and the Newborn Band that was actually filmed in Miami after returning from a 13 week European tour late in 1975.
In the early 1990's thru 2001 I performed locally in south Florida with other local classic rock bands predominantly doing more 50's and 60's bringing it to the present..
Composing has always been important throughout the years, and I recently began rehashing and tweaking some old compositions as well as new ones that are in the works.
My goal is to put forth the effort through my dedication to the art of music from the talent that has been instilled upon me, and to continue to improve myself through my yoga practice that has helped me to maintain the discipline and good health that it takes to succeed in life!
GROUP HISTORY
1964-1965..  The Mustangs..
1965-1966..  The Modds..
1967-1968..  The Mirage..
1969-1974..  The World of Matter..
1974-1975..  The Newborn Band..1975-79..with George McCrae..
1979-1980..  Flame, Superfunk..
1981-1982..  The Nasty Kids..
1982-1984..  ViVa….
1984-1992..  KC and The Sunshine Band.. www.kcandthesunshineband.com
1992-2002..  ViVa..
2002-2003..  Coyote, 90 Degrees.. (same Group)
2003-             C.O. Jones… www.cojonesrock.com
.. dennis sierra
2009   recorded Hugh Jarvis Hitchcock FUNKMEISTER (-editor 🙂
(reprinted by permission from http://www.dennisierra.com/id7.html)