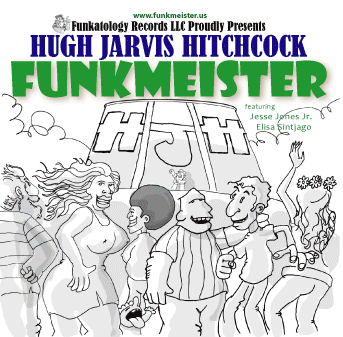 FUNKMEISTER was the first record I'd produced under my own name as artist. I have produced other LPs and/or have been in on the production of quite a few records, but this time, I decided I would take on the whole task of writing, arranging, recording, engineering, and producing in my own space, dependent on no one else to make any of the decisions, right or wrong. And it's taken me a while to feel comfortable with the result, but I think ultimately I set out what I had intended to do, which was to produce some good songs and put them out.
Not to bum anybody out, but I had a torturous relationship with my parents, and when my father died, he had a page obituary in the New York Times which actually mentioned my name and I suddenly felt like it was time for me to do whatever work I had to do here before my time's up. And one of the main things I knew I had to do was to at least start to externalise all the music that flows through my veins, starting with my one step on a journey of a thousand — to put out my CD. I'm not being conceited about this, just ask the people that know me here in Miami, they'll tell you, it just doesn't stop. I've written so much music over the years, but putting out a CD of just a few songs is much more difficult than writing a thousand songs and never putting them out. In the making of this CD, was constantly switching hats between producer, keyboardist, engineer, writer, vocalist, guitarist, bassist, and a few other roles I won't go in to here — and since it was my first time, believe me I made a few mistakes along the way. But I certainly learned from them and at the end of the day I think I figured out how to do everything correctly, and I believe the product speaks for itself.
It says a couple of things… first, I think it says that I can write a song or two. Secondly, I know how to put together a motown rhythm section. Third, "I see color" 🙂
There are some new songs on the album and some old songs. The first song, "Ur Makin Me Hi", was inspired by the online reunion of myself with a very nice person named Wendy Fuller Primo, who was/is a close friend of some other very dear friends of mine from back in the day. She told me some things on MySpace about my "peeps" back in Detroit that really made me feel, well, "hi" if you will. So to be honest, the song is for her, even though I dedicated it to 'my friends in Detroit' (it's for them too 🙂 I have songs dedicated to my wife Norma, my ex-wife, my mother, Elisa, and it just got to the point where I said hey, how many other women can I dedicated songs to before my wife kills me heh heh. So Wendy here is to you, in effect you are among my many dear friends in Detroit to whom the song is dedicated.
The second song is called "Mixed Messages" and it was a fictional situation inspired by mundane true events — a writer needs grist for the mill sometimes heh heh — the underlying theme of the song is that people tend to believe what they hope to be true, rather than reading the indicators that may suggest that the opposite is in fact true. And other people can tend to take advantage of that situation by not being completely honest. It also has a line from the time I had to break my mother out of a nursing home…. bizarre… Fancy that… it's kind of all mixed up, but in fact my life was a bit mixed up when I wrote it… also Elisa Sintjago contributed such an awesome feel, and so many original ideas to the song that she ended up getting 50% writer's credit in the copyrights. Awesome job Elisa, that is why I dedicated this song to you (and the only reason, lyrics notwithstanding.)
Song number three is kind of a sweet and dirty little ditty which went under the working title "Reggae Rock" but eventually found words and was renamed "Be My Fantasy", inspired by my loving and beloved wife, Normita. Some people really dig this song because it has a fast kind of a ska beat with rock guitar. There was an acoustic guitar part that kind of got lost in the mix somehow. Probably because Dennis Sierra's rocked-out guitar playing was so hot. I told him I wanted a new "Alvin Lee" track! And I think he delivered.
Song number four is called "You Didn't Have to Be So Nice", and It's funk pop rock. I did everything on this song except the sax and vocals. While I won't go into all the details here, it was a very emotional song that I wrote after a particularly heartbreaking drunken rejection scenario put on by my father at the end of one of my visits — one of many such bad endings I experienced with him over the years. This one happened in 1988 and that was when I wrote the song. After he died I knew I had to publish this song for my own good if not for others who might like the song. I've gotten some comments back from people I respect who think this song has potential for commercial success. Well, I will tell you it's very dear to my heart. And Elisa did such an incredible job of helping me get this song out. Sometimes I can hear Diana Ross singing a song like this. I think it could be a classic if you can get over the angry part of it. Jesse Jones Jr. really gave the song a New Orleans vibe with his old-time saxophone stylings. Just beautiful.
I wrote song #5, Out of Control, in 1985. Of all the feedback I've gotten back from friends who've heard the album, this song seems to be a favorite. I will say it came out even funkier than I'd anticipated! Again, Elisa delivered with an upbeat Euro-style interpretation of my lyrics, and Derek Mason really stung it with his guitar work. I didn't do a lot of flashy playing on the CD, that wasn't the point of it — but this song does have some good bass-popping that people have come to expect from me. I kind of like the lyrics to this song, especially that part about "my brain is squirming like a toad" LOL!
Song 6: If I Gave My Heart to You, dedicated to my wife, the song is about my views on the longevity of love and commitment. Started out being one particular type of rhythm but due to an oversight on my part in the original recording session, the track ended up at a much faster tempo than was anticipated. Hence, the beat was changed up so that progress could march on. I think it turned out pretty nicely, especially the three-part harmonies that Elisa executed in the choruses and the outro. Just Beautiful, I say! And funky, with a hip analog-style synth solo in tandem with some jazzy sax work by Jesse.
The seventh song on the album is kind of a sad song… I thought I was writing about myself at the time. I was feeling like who am I, what am I doing, where am I going, what is it all about? And feeling lonely. It was a very weird time in my life. My father had died. My mother had been sinking deeper and deeper into an advanced dementia that included continual hallucinations and psychoses, and she was completely deaf on top of that, and wanted to communicate and she really couldn't anymore. It was very, very difficult, since I was charged with being (or at least I had tried to be for the last five years) responsible for her. Finally, right around the time I was finished with this CD, she passed away. Again I am not trying to bum anyone out here, it is just what happened. After she died, I realised that the song All I Know was really about her, so I dedicated it to her. If you listen to it again with this understanding it may have more significance.
And just so you know, my mother, who I loved very much, was a virtuoso pianist who received a master's degree at the top of her class in piano performance from the University of Michigan. I received a lot of intellectual knowledge from my father, but it was my mother's genes that gave me this really strong musical drive, to "vibrate the air molecules" as Frank Zappa might have put it. I spent many an evening listening to her TEAR UP that piano keyboard playing romantic Chopin and many other classics, she seemed to vent all her pent-up emotions through that piano, and I heard them all. My father played piano too, but was prone to be limited to more soft-spoken things like perhaps a Mozart sonata or two. He played very finely, always with perfection, but never delivered the kind of fiery performance that my mother did. My sister told me that he had confided in her once that it was that fiery piano playing that had attracted him to my mother in the first place, at the University, when they were both music students. But I digress…
Song number eight, I Want to Love You, on a more upbeat note, was written for my ex-wife in 1990, a lovely lady for whom I was certainly too immature at the time to be a good husband. Sorry about that Lydia! I wanted this song to be for you because it was for you. I think this song rocks. It is an archetype of eighties style disco dance music which reminds me a little bit of my favorite Detroit group, Brainstorm. Elisa rocks on this tune, as does Dennis Sierra on guitars and Jesse Jones Jr. on saxophone. What's it about? Hmm… the age old question, do I stay home alone or do I open myself up to whatever fate has in store by opening up and trusting that certain someone? I needs it! Yow!
What can I say about number nine? Make No Mistake was created one night during the last year of George W. Bush's term in office. I said to myself, hey, I would love to create a funk tune based on some sound bytes from W. I didn't want them to be terribly tragic, or political, or anything other than really just expressing the absurdity of it all. That's the way I felt — like it was all an absurd dream. So I started looking for some GWB sound bytes, and I came up with some really nice rhythmic figures that be imported into a drum machine and treated like drums in a drum set. "We Don't Fear the Future" was one, "Make No Mistake" was another. Then I found "You Cannot Solve a Problem Unless you Diagnose the Problem" which was tremendously rhythmic, and totally contained the the absurdity I was looking for — two metaphors mixed in one sentence. There's more — you really have to hear it. Or see it, since I produced a video on this song! Great performances by Jesse Jones Jr. and Joe Collado.
The last song on the album is called "Stratus-Fear". I wrote it in 2003. The title itself is kind of a pun on the fact that the song is loosely inspired by a Billy Cobham tune called "Stratus" which I could never get my dear friend and drummer Larry Hirt to play on gigs, because he said he could never duplicate what Billy Cobham did on the track with his double-bassdrum set. Hence the fear of Stratus, or "Stratus-Fear". Ultimately we all overcame our Stratus-Fear and produced this track, which, I think, smokes, with Larry Hirt actually playing drums on the track via a Roland TD-20 Electronic drum kit. With us on the track is veteran south Florida guitarist Jimi Ruccolo, who graciously agreed to appear on my album with Larry on this final track, which I dedicated to both Larry himself (love ya dude) and the late great Bill Gracie, who was the drummer for the Martian Entropy Band, and who originally had turned me onto the Billy Cobham tune in the first place. So the tune is dedicated to two great drummers I have known and loved over the years, one gone and one still with us thankfully.
So there you have it… it was quite a mixed up time but I managed to put this thing out and learn everything I needed to learn to move foward and to be prepared for my new upcoming projects.
Before I end this long missive I want to mention one great contributor to my CD, Mr. Jesse Jones Jr. Jesse happily came in time after time and recorded on every single track on this album (except Stratus-Fear) and that's why he is the first one on the list of Thank-You's. He enthusiastically gifted me with a whole dimension of sound to the enterprise that was greatly appreciated. That plus the fact that we've been dear friends for twenty years now! By the way, we're producing a new, special album on Jesse which will be released end of 2009 or beginning of 2010, so stay tuned… I promise you that everything I learned from FUNKMEISTER has exponentiated to several additional levels of magnitude, and will be immediately evident in this new effort that's coming out. And Jesse is just… bad, I don't know how else to put it. You can check out what we're doing at www.scathop.com.
PEACE :: RESPECT to you all. My best,
Hugh 2009/09/26