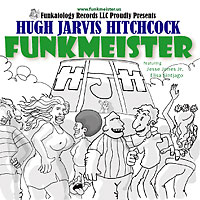 On October 15th I was notified — actually it came out of the blue and pretty much took me by surprise — that my song "You Didn't Have to Be So Nice" from my record FUNKMEISTER had reached chart position #75 on the Top 100 international charts for Adult Contemporary songs. Wow! What a great honor.
The notification came from the I.A.I.R.A — the International Association of Independent Recording Artists (http://www.iaira.com) which is a completely objective monitoring and reporting agency which keeps an eye on radio play around the world.
I am honored and thrilled to be able to unequivocally print this news on my various websites. Many thanks go out to Elisa Sintjago for doing such a fine job of rendering the tune, and of course to Jesse Jones Jr. for providing a very nice saxophone track for the song. And thanks to me for writing and arranging the music and lyrics, engineering the session, mixing (and re-mixing) and also to myself for playing all the guitars, basses and keyboards as well as programming the drum tracks! Kudos, self! And also a big shout-out to Kevin Nix of Ardent Studios in Memphis Tennessee for doing an awesome job mastering the record.
My promoter tells me she thinks this is just the beginning of many good things to come. I will be releasing another single off the album shortly. So stay tuned…